I'm linking up with my gal pals
Mia
,
Kristal
,
Katie
and
Carly
for Thankful Thursday because I have SO much to be thankful for this week. I could almost write two blog posts, but I won't. I'll spare you with all my "mushy, gushy, the world is so wonderful" gushiness and simply share a few blessings on my heart.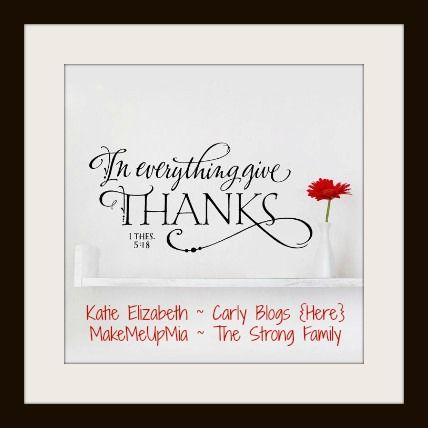 ONE
I would be lying if I said I didn't shed a few tears after reading all your sweet comments on
Tuesday's post
. I am beyond grateful for the encouragement and prayer I received. I'm always taken back by how uplifting this blogging world can be. Not to mention my phone blew up with a handful of family members reaching out to comfort me. I had no idea family even read my blog! I'm too blessed to be stressed y'all!
TWO

We are leaving for Panama, FL in 9 days with two of our best friends. #HALLELUJAH this girl needs a vacation! Although I'm terrified to put on a bikini... I've completely slacked on my #1800MinuteChallenge.
THREE
Speaking of #1800MinuteChallenge, I have started the Bikini Series by Tone It Up and I'm over-the-moon excited. I did it last year and quit halfway through, but not this time. Seriously. I love Karina and Katrina! I mean... lesbi-honest their bodies are incredible and they are beyond motivating! (Also, if you caught the Pitch Perfect reference we are now best friends.) Feel free to follow me on
Instagram
or
Twitter
for updates throughout the next 8 weeks.
FOUR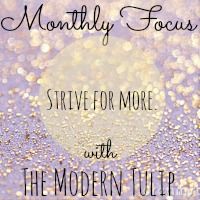 It's time for a new Monthly Focus! I am moving my link-up to this Monday the 5th because it sprang up on me out of nowhere. I mean holy May 1st!? So please join me in linking up come Monday morning and share what your goal or focus will be for the Month of May is. I can't wait to hear them! Find the
deets here
and see links to previous monthly focuses if you are at a loss for ideas.
FIVE
My sister-in-laws. This is completely random, but lately both of my SIL's have been so uplifting and comforting. I'm so grateful The Lord has blessed me with amazing, Christian family members. I married into a family that brings me joy everyday. And my brother married a woman who fits in perfectly into our crazy little life. Being surrounded by caring and uplifting people makes all the difference in my daily attitude.
I hope you are having a wonderful week. It's
almost
Friday!