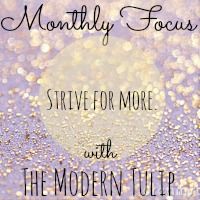 Quite the heavy topic for a Monday morning, eh? Well, I've had my May focus planned for over a week now, but I took a slight change in direction after yesterdays sermon. My original plan was to talk about how I've neglected to take care of my body with the change in pace with our work schedules and my time management skills. And then Jesus laid this message on my heart and I couldn't ignore Him.

Oh and before I get deep on you, if you are new around these parts and wondering what this monthly focus stuff I speak of is? As a 2014 New Year's resolution I decided to have a monthly focus because focusing on something for 31 days sounded much more attainable than 365. Last month I made it a link-up so all of us gal pals can share our hearts and journeys together. Sound fun? Join in sometime this week or follow up again next month!
So... May's focus. Body image - Our eyes vs Gods' eyes.

We fight a constant battle within ourselves with our negative thoughts about our bodies. As women we obsess over the bulges, the cellulite, the curves or lack thereof. It's quite silly, but media makes us feel this way. What's hot, what's trendy and what's acceptable is thrown in our face daily.

Do you know who started it?
When the woman saw that the fruit of the tree was good for food and pleasing to the eye, and also desirable for gaining wisdom, she took some and ate it. She also gave some to her husband, who was with her, and he ate it.
Then the eyes of both of them were opened, and they realized they were naked; so they sewed fig leaves together and made coverings for themselves.
Then the man and his wife heard the sound of the

Lord

God as he was walking in the garden in the cool of the day, and they hid from the

Lord

God among the trees of the garden.
But the

Lord

God called to the man, "Where are you?"
He answered, "I heard you in the garden, and I was afraid because I was naked; so I hid."
Genesis 3:1-11
Ironically a women is the reason body image became relevant. Maybe Eve wasn't paying attention to whether or not she had cellulite, but she became aware of her privates and was quick to hide them from God and Adam. Maybe Adam didn't worry if he had love handles, but he hid from God because he was ashamed he was naked.
What about the man who made us? What does He think about our bodies?
But the

Lord

said to Samuel, "Do not consider his appearance or his height, for I have rejected him. The

Lord

does not look at the things people look at. People look at the outward appearance, but the

Lord

looks at the heart."
"You are the ones who justify yourselves in the eyes of others, but God knows your hearts. What people value highly is detestable in God's sight."
You mean to tell me God doesn't judge me upon the wrinkles on my brow or the extra layer of skin on my stomach? He doesn't care whether my butt fills out my jeans or if my nose is perfectly straight? He cares that my heart follows and trusts in Him. That I share His word with His people. That I treat my body as a temple to love and cherish and offer it as a living sacrifice to Him. Whoa!
My monthly focus is to attempt not to conform to this world. I don't want to look in the mirror and have 10 negative thoughts as to how I should change my image. I want to look in the mirror and say, "I am a child of my God who adores me. He sees my heart alone."
This month is about treating my body like a temple and loving myself for who I am and forgetting about what the world expects me to be.
Previous Monthly Focuses: