It seems like every time I blink it's time for another round of The Creative Closet. Is time passing just a little too quickly for anyone else? I want to say that always happens this time of year, but now that I think about it, as I get older I'm saying that pretty frequently regardless of what time of year it is. I've heard it will only get worse once Baby Mills is born.


Slowwww down time.
So it really wasn't my intention to wear 50 shades of green, but it happened. And after looking at these pictures I wondered why I didn't look in the mirror. Turns out my purse doesn't even match in the slightest, but hey, dare to be different right? If you own it people won't judge you. (Really if you own it, people will still judge you, but silently because they pity you for "owning" it).

Confused yet? Me too.
Regardless of how it looked it was a super comfortable outfit and that's what I was totally going for. I basically live in boots this time of year because the outfit options are endless and you can't beat the comfort. Not to mention they keep my feetsies toasty. You may think I have a boot addiction if you peaked into my closet, but I like to think I'm just smart. I invest in a good pair of boots each year and as they wear out I alternate my new ones in. These babes are newbies to my feet and they are perfection. It was love at first sight with the style and color, but after spending a whole day in them I am sold. Thank you
Target
(surprise, surprise).
Jana
and I would love it if you joined in with us each Tuesday for the rest of October. The prompts all pertain to something you already have in your closet! Just take some time to perhaps find something you wouldn't have put together before. See your closet in a different light!

Make sure to link up on one of our blogs on Tuesday and share this button below so we can all feel the love and spread Creative Closet joy! It's a thing you know.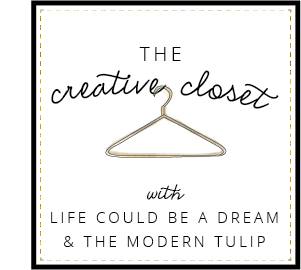 Oh and don't forget to share your look socially using #TheCreativeCloset. Twitter, Insta, wherever. We will find you in the least creepy way possible :)
An InLinkz Link-up